New Year's Eve Count Down!
December 13, 2012
New Years Eve is the one holiday party that keeps on going…. in each country and in every time zone, someone is celebrating.  Personally I am always up for a party so why not celebrate with everyone all night long!
We will start with different stations for each country. On each table you will have a clock set to the time that your country celebrates New Years Eve!
Lets Start With Paris!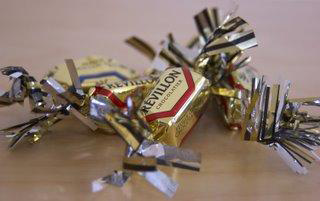 Your main centerpiece will be the Eiffel Tower – a tall gold one. Placing a battery-operated candle inside the base will light up the tower. Set this on a black tablecloth for a dramatic effect. Drizzle the table with gold and silver star shaped confetti. You can never have too many candles!   Now scatter lots of Papillotes on the table. Papillotes are a popular chocolate treat that make an appearance on Christmas and New Years in France. They open like a firecracker! Inside, each chocolate has a personal message written by a philosopher. Have chilled bottles of champagne ready to go…when the clock starts to chime, gather your guest for their first celebration of the evening. Kissing at midnight, toasting with glasses of champagne and opening your Papillote. Sounds like a good way to bring in the New Year to me!
Off To Spain!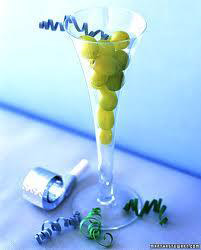 In Spain, the traditional custom to celebrate New Year's Eve is to have twelve grapes ready to eat when the clock starts to chime. I have placed the grapes in Champagne flutes.
Each time the clock chimes; each person puts a grape in his or her mouth. By the time the clock has finished chiming, everybody has to have finished their grapes and the New Year starts!
If you manage to eat the 12 grapes, then you will have 12 months good luck and you can fill your glass with Cava!  Only wines made in the Champagne region of France may be called Champagne. Spain produces a fine sparkling wine in the same Champagne method but it is called Cava.
For your tabletop from Spain, a black damask tablecloth will look very elegant and dramatic! Remember the clock that chimes for the countdown.  Let's sprinkle lots of gold confetti and use red party blowers scattered on the table.  This is a good time to use candles in votives.   You can use a standing Champagne bucket or a tabletop one; just make sure your Champagne is chilled. Click here for a suggestion for one of your Spanish Tapas.
 Culinary pleasures and entertaining with friends and family refreshes the soul, revives the spirit, and makes new memories