Fettucine with Bacon, Peas and Parmesan
March 2, 2017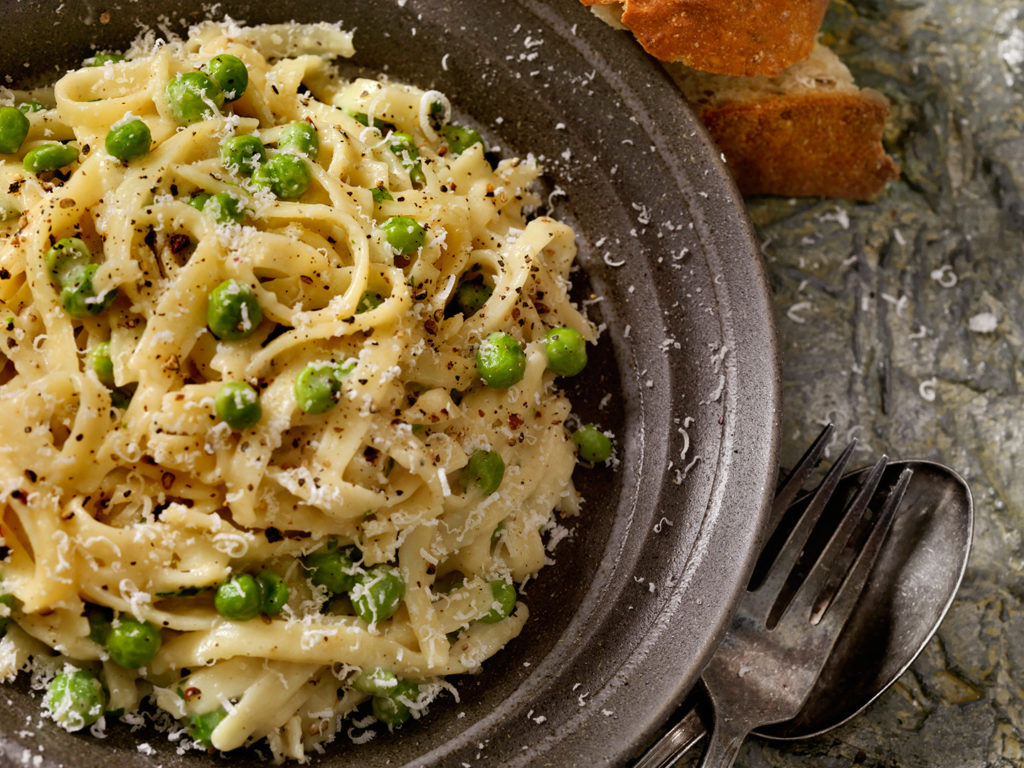 Suggested Wine Pairing:
Notre Vue 2014 Rhone Blend
(Syrah) Spicy black pepper notes and flavors reminiscent of wild dark berries in the Rhone Blend work beautifully to highlight the smoky meatiness of the bacon with the fruity character of the wine supporting the Parmesan cheese. Such a rich, savory dish needs a wine equally as bold and powerful – the Notre Vue 2014 Rhone Blend fits the bill perfectly. Bon appetit!
Ingredients
9 ozs package fresh fettuccine pasta
2 slices smoked center-cut bacon
1/2 cup cup chopped onion
2 tsps teaspoons bottled minced garlic
1 tbsp chopped fresh thyme
1/2 cup frozen green peas
1/2 cup chopped green onions
1/3 cup half-and-half
2 tsps butter
1/2 tsp salt
1/8 tsp black pepper
1/4 cup shredded Parmesan cheese

Directions
Cook pasta according to package directions, omitting salt and fat. Drain pasta, reserving 3/4 cup cooking liquid.
Cook bacon in a large nonstick skillet over medium heat until crisp. Remove bacon from pan, reserving drippings in the pan; crumble. Add 1/2 cup chopped onion, bottled minced garlic, and chopped fresh thyme to drippings in pan; sauté 2 minutes.
Stir in green peas; sauté 1 minute. Add green onions to pan; sauté 1 1/2 minutes. Add pasta, reserved cooking liquid, and half-and-half to pan; cook 1 minute or until thoroughly heated, tossing to combine.
Remove from heat. Add butter, salt, and pepper to pan; toss until butter melts. Sprinkle with crumbled bacon and Parmesan cheese.
Source: Food Network