Grilled Chicken with Pinot Noir Blueberry Sauce
June 8, 2015
Grilling season is upon us! This is an unexpected twist to your standard grilling fare. This pairs beautifully with our Windsor Oaks Wine Pinot Noir
If you're a little out of practice, be sure to read my Grilling Tips Article.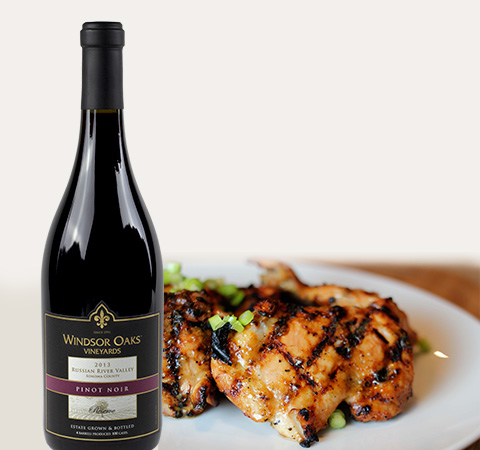 INGREDIENTS
For the chicken:
4 chicken breasts, skin-on
2 tablespoons light brown sugar
1 teaspoon chili powder
1 teaspoon ground cumin
1 teaspoon kosher salt
1 teaspoon sweet paprika
½ teaspoon cayenne pepper
For the Pinot Noir Blueberry Sauce:
1 medium yellow onion, finely diced
½ tablespoon canola oil
2 cups fresh blueberries
½ cup ketchup
½ cup Pinot Noir – such as Windsor Oaks Vineyards
¼ cup balsamic vinegar
¼ cup light brown sugar
½ teaspoon kosher salt
¼ teaspoon cayenne pepper
INSTRUCTIONS:
Prepare a grill as necessary for grilled chicken.
Rinse and pat the chicken dry.
In a small bowl combine the brown sugar, chili powder, cumin, salt, paprika and cayenne pepper.
Rub the chicken with the spice mixture.
Grill chicken as you normally would.
In a medium saucepan, add the blueberries, Pino Noir, balsamic vinegar, brown sugar, salt and cayenne pepper.
Mix to combine and bring to a boil.
Reduce the heat to a simmer and cook the sauce for about 15 minutes; you want the blueberries to cook down and the sauce to thicken slightly. Leave a handful of whole blueberries.
Culinary pleasure and entertaining with friends and family, refreshes the soul, revives the spirit and makes new memories.
-Renee
Enjoy the Journey