Wine Pairing Guide
April 21, 2012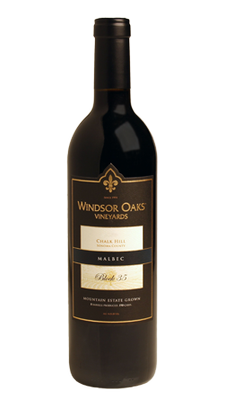 Decadence returns for another vintage! Deep plum black hue with sleek layers of creamy red and blueberries laced with spiced blackberry and hints of vanilla mocha. This plush texture and bright fruit ends with a long, balanced finish. Our signature 100% pure Malbec comes from vineyard block 35c, and shows rich concentration of its volcanic mountain soils and steep slope. Gold Medal Winner – 2011 San Francisco Chronicle Wine Competition.
The most common Malbec wine pairing, much like other red wines, is with red meat dishes, and especially beef, venison, partridge or duck.
Because of its versatility, Malbec wine also pairs very well with spicy dishes. This means that lovers of Indian food, Cajun food and Mexican food.
Windsor Oaks  Parings with Bellwether Farms
Established in 1986, Bellweather Farms is owned and operated by Cindy Callahan, son Liam and his wife Diana. They make a nice range of cow and sheep milk cheese as well as fresh cheese and sheep yogurt. Bellwether Farms raises the best sheep for milk on their farm. Though they do not raise cows, Bellwether Farms keeps it local by getting the milk from a nearby farm.
Through time and several visits to Europe, the family discovered that, using traditional methods, no two cheese makers could possibly make the same cheese due to subtle differences in milk, climate, equipment and technique. At home in Sonoma County, they developed their own specific conditions to create unique, great-tasting cheeses.
The emphasis on high quality and creating a special product is shared with Windsor Oaks Vineyards & Winery. No doubt, this is why the wines go so well with the cheeses.
Pepato is made using aging techniques with whole peppercorns inside the wheel.  The preference is to age the cheese 3 ½ months.
Ingredients:
Pepato: Raw Sheep Milk, Traditional Rennet, Cultures, Black Peppercorn and Salt
Texture: Semi-firm
Aged: Minimum of 60 days
Rind: Natural
While the sheep cheeses are ripening they develop a smear on the rind that contributes its own interesting and complimentary flavor.
It shows intense flavors from the long, cool 2009 harvest, bursting with luscious, deep aromatics and flavors of bright cherry, blueberry and juicy blackberry smoothly layered with black and white pepper notes. From the extended barrel aging, it showcases complex barrel spices and silky smooth cocoa notes.
Big reds like the Windsor Oaks Zinfandel have notes of pepper making a lovely marriage with Bellwether Farm's Pepato. The fruit forward characteristics of the wine balance well with the rich, full flavor of the cheese.
After returning to the US from an extended trip to Italy, Cindy began working on the Crescenza. It took about 6 months before she was able to adjust the recipe to account for the higher butterfat and solids of the Jersey cow's milk we were using. The secret of this cheese is balancing the acid development with moisture level in the correct he cheese to have it ripen properly.
Ingredients:
Pasteurized Jersey Cows Milk, Vegetable Rennet, Cultures and Salt
Texture: Soft
Aged: 1 week
This complex, balanced and age-worthy blend shows clean, classic Russian River fruit. Patient French oak aging brings out its plush core of bright black cherry, red berry and sassafras cola, laced with wild strawberry, complex spices and vanilla.
The rich creaminess of the cow's milk needs a wine with a good acid backbone to cut through it. The 2008 Pinot Noir has that backbone along with beautiful fruit and mineral characteristics to make this a fun pairing!